Helping Hands/Freedom Trails
Envisioning the Idaho outdoors accessible to all
Our Vision
As a nonprofit organization, Helping Hands/Freedom Trails envisions the Idaho outdoors with all of its opportunities for exploration and recreation being accessible to all people regardless of their ability level or special need.
About us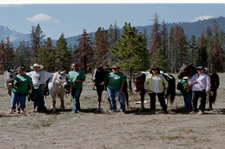 Helping Hands/Freedom Trails is an organization of members devoted to providing a quality outdoors experience to all people, regardless of ability level or special need.

Most Idaho residents have access to our world-class recreation, these opportunities are not always available to these individuals.

Our members and volunteers are primarily from southern Idaho, some come from as far away as California and Florida. Our campers come from all areas of Idaho. Each year we are looking for more special individuals to join us, not just from Idaho, but from other states as well.